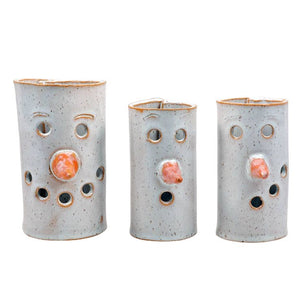 Bring even more joy into the winter season with these fun, goofy, snowman luminaries! Add a scarf? Sure! Top it with a hat? Of course!

In this one-time workshop, students will create and paint their own snowman luminary. We'll talk them through attaching the nose and poking holes to let light through. Students will glaze their pieces during class. We'll put them through the kiln (they won't melt, we promise!) and they'll be ready to pick up about 2 weeks after class.
Open to students kindergarten through high school.
*Classes are charged per person.
*Pieces will be finished about 2 weeks after class.
*Minimum 3 students, maximum 12.